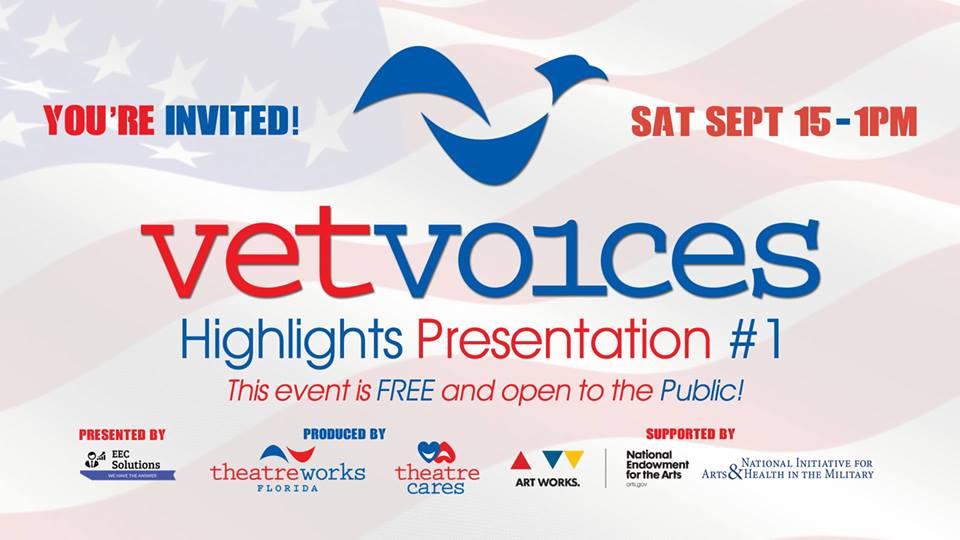 This is a message from one of our community partners.
"VET VOICES: Highlights Presentation #1" • SAT SEPT 15 at 1:00 PM • FREE & OPEN TO THE PUBLIC!

TheatreWorks Florida and the veterans of "Vet Voices" proudly invite you to a FREE public presentation of inspirational theatrical work created entirely by the vets themselves during their first 10-week session of workshops. Come share stories of the men and women who protect our country every day in an impromptu studio setting. Support… Connect… Engage.

DATE/TIME: SAT SEPT 15 • 1:00 PM
LOCATION: TheatreWorks Florida Studio, 8 W. Palmetto St., Davenport, FL 33837
PARKING: View: https://bit.ly/2hjdXse • Download: https://bit.ly/2MetN9e
TICKETS: FREE
LENGTH: 35 Minutes
PRESENTED BY: EEC Solutions

Please support the incredible veterans of Vet Voices as they share their military experiences in an eye-opening theatrical forum. This event is open to the Public and we encourage families to attend.

Questions to Mark Graham: vetvoices@theatreworksfl.org or 203.952.8760.

We hope to see you at the theatre!